Krypton V 0.99b by Squale92



Autor : Pascal MARTIN, aka Squale92
E-Mail : squale92@gmx.fr

Presentation :
This is the current version of Krypton, a Shoot'em Up which takes ideas of many others, both on TI and PC, so that it can be used on TI calculators.
The goal of the game is quite simple : to defeat your terrible ennemies, surviving until the end of the five levels ; to succeed, you'll have to be quick, and need pretty good reflexes.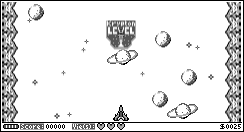 Scenario :
The game is situated in the future, a few centuries away from us ; the Earth has become impossible to live on, and men live in peace with the other species of the galaxy. But an intruder, coming from the unknown around the galaxy has attacked this one... And your beloved Leonova has been reduced into slavery on a planet on the other side of the galaxy... On board of your trusted spaceship, the Krypton, you are getting ready to go through the territories controled by the ennemy, to rescue her.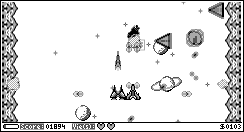 Features :
- On-calc compatibility between TI-89, 92+, and V-200, which means that the same files can be used on the three models !
- 4 gray levels.
- Differential Scrolling.
- Many ennemies, and many trajectories.
- Many different weapons and power-up.
- A shop, which allows you to buy, and to sell.
- Each level finishes with a Boss.

---


Auteur : Pascal MARTIN, alias Squale92
E-Mail : squale92@gmx.fr

Présentation rapide :
Ceci est la dernière version de Krypton, un Shoot'em Up s'inspirant de plusieurs de ses semblables, que ce soit sur TI, ou sur PC, afin d'arriver à être jouable sur nos machines.
Le but du jeu est simple : vaincre vos terribles adversaires, en survivant jusqu'à la fin des cinq niveaux ; pour cela, il vous faudra être rapide, et efficace !

Scénario :
Le jeu se situe dans le futur, à plusieurs siècles de nous, alors que la Terre est devenue inhabitable, et que l'Homme vit en paix avec les autres espèces vivantes de la galaxie. Mais une espèce venant des zones inconnues autour de la galaxie a attaqué celle-ci... Et votre bien aimée Léonova a été reduite en esclavage sur une lointaine planête... A bord de votre fidèle vaisseau spatial, le Krypton, vous vous apprêtez à traverser les territoires contrôlés par l'ennemi, afin d'aller à son secours.

Fonctionnalités :
- Compatibilité on-calc entre TI-89, 92+, et V-200, ce qui signifie que les mêmes fichiers seront valables sur les trois modèles !
- 4 niveaux de gris.
- Scrolling Différentiel.
- De nombreux ennemis disposants de plusieurs trajectoires.
- De nombreuses armes et power-ups différents.
- Un magasin, permettant d'acheter, mais aussi de vendre, de l'équipement.
- Chaque niveau se termine par un Boss.